Eisenhower Senior High School
Class Of 1979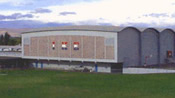 Memories of Ike
Share with us some of your favorite memories from school. If you have a topic you'd like to see on the survey, send me an email. I'd love to put it in.
Do you remember our "Fight Song"....
Fight on mighty Eisenhower
We will lead you on to fame
On to victory urge our heroes
Chant your glory I-K-E
Ike Cadets we'll praise forever
Striving never to retreat
We're out to win for Ike High
And we always will defeat
You must be a member to submit this survey. If you are a member please log in first. You can't submit this form until you've logged in.
| | |
| --- | --- |
| 1) | What are some of your fondest memories at Ike? |
| | |
| --- | --- |
| 2) | Have you ever wished you could go back to your high school years? If yes, why? |
| | |
| --- | --- |
| 3) | What do you remember about our graduation? |
| | |
| --- | --- |
| 4) | What was your favorite subject/class? |
| | |
| --- | --- |
| 5) | Who was your favorite teacher(s)? |
6)
What was your favorite school lunch?



| | |
| --- | --- |
| | Cheese Zombies & Tomato Soup |

| | |
| --- | --- |
| | Turkey Gravy over Mashed Potatoes |