Eisenhower Senior High School
Class Of 1979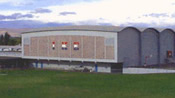 In Memory
Craig Zirkle
Craig Cameron Zirkle
November 7, 1959 - May 19, 2014
Craig C. Zirkle, Yakima, died suddenly Monday, May 19, 2014 of major coronary failure at the age of 54.
He was born in Yakima and lived his entire life in the area graduating from Eisenhower High School. Craig was employed by the Washington State Department Transportation for 32 years, most recently in the engineering Section of the Regional headquarters office Union Gap.
He enjoyed snowmobiles and motorcycles in the woods, fast cars on the road and backyard barbeques; all with his son Nick, family and friends.
Craig is survived by his son, Nicholas Zirkle, his mother, Lou Ann Zirkle of Lacey, WA; his sister, Shelley Blevins of Lacey and nephews, Levi, Shawn, Riley and Connor Blevins; his father and step mother, Jerry and Jo Ann Zirkle of Olympia and sister Karen (Ted) Arnold of Grays Harbor, WA.
He was preceded in death by his wife, Nancy.
A Funeral service will be held at Rainier Memorial Center, 2807 Terrace Heights Rd. Yakima, on Friday, May 23, 2014 at 10:00 a.m.
Concluding services and burial will follow at Terrace Heights Memorial Park.
To celebrate the life of Craig, visit
www.keithandkeith.com