Eisenhower Senior High School
Class Of 1979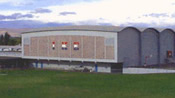 In Memory
Matt Stephens
YAKIMA - Matthew Eric Stephens, beloved son, brother, and devoted friend, died suddenly at Yakima Regional Medical Center on Saturday afternoon, January 26, 2013. He was born to Paul S. and Joyce Stephens on July 13, 1961 - a life too short for such a remarkable young man.
A graduate of Eisenhower High School, he attended Yakima Valley Community College for a short time where he was on the Dean's list. His hobbies were guitar playing and astronomy. Many hours were enjoyed by him and his buddies in high school, and shortly thereafter, in a band and he also spent many hours with his telescope stargazing.
His work was in the services field in air conditioning and heating and the electrical industry, currently employed by RSD. He was goal-oriented in prompt and knowledgeable service to all of his customers. Matt had a very dry and entertaining wit and could be great fun. He loved all animals, especially his cat.
In death he joins his father, Paul S. Stephens; grandparents, Henry and Inis Mary Lang, and MK and Minnie Stephens; his niece Kathy; aunts, Margaret, Harriet, Virginia, Jerry, and Frances; uncles, Bob, Dean, Lawrence, Harold and Howard.
He is survived by his mother, Joyce; brother, Marc (Marion) of Scottsdale, AZ; his caring and devoted friend, Wena Dove; aunts, Carol Hyder of Orlando, FL, and Myrtis Lang of Sunnyside, WA; and numerous cousins.
Memorial Services will be held Saturday, January 2nd at 11:00 a.m. at Christ Lutheran Church in Yakima. Private inurnment will be held at a later date. RSD employees planning to attend are encouraged to wear their logo shirts. In lieu of flowers, please consider the Humane Society for memorial donations in Matt's name. Online condolences can be made at www.valleyhillsfh.com.